Ifayemi's Bio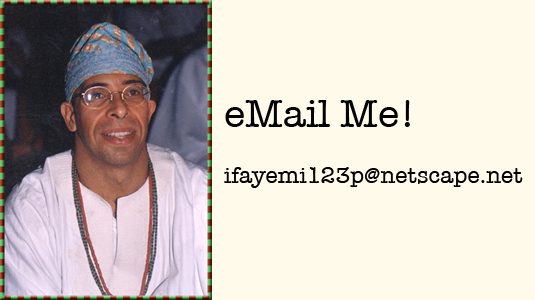 My name is "kekere" awo Ifayemi, I am a servant and priest of IFA. I was "pseudo" initiated by the "Gbawoniyi" Ade Bolu of Ile Ife in March 1997 in which the Agbonbon of Osogbo, Fakayode Faniyi was invited to "performed" my "ita" with an opele.
The actual Te'Fa was done in May in Lagos 2001 by Oluwo Ifagbenusola Atanda with the ajugbona Baba Arugbo and several other respectable Awos present. My Odu is Ogunda Igbin or also called Ogunda Odi.
In my own Odu, IFA states:
Orule bage bage,
Difafun Orunmila
Baba nloo soko Wuraola
Won ni ko kara nle ebo ni sise
Ela isode
IFA lo to oko Wuraola se
Babalawo to gbo'fa a bi Wura nikun.
Translation:
An old dilapidated rooftop (alias of awo)
Cast IFA for Orunmila
When going to become Wuraola's husband
He was advised to do ebo
Ela isode, the Holy one
IFA is the only one capable of marrying Wuraola
A well-learned Babalawo is endowed with golden attributes.
In this verse, IFA says that as a babalawo, one needs to behave meekly and desist from any act of violence and unbridled behavior. Gentility and humility must be part of his character.
Please click here for some of my personal observations in the IFA community.




Connect to the power of Wisdom, connect to the power of IFA!
Consult IFA before the problems starts!
(305)282-2530