Welcome!
Bienvenidos!
E Kaabo!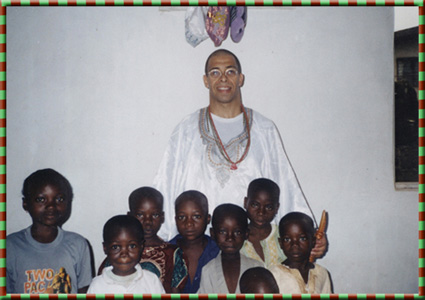 Hello, I am Eugene Pieters-Kwiers Awo ni Orunmila Ogunda di Igbin. I am also known as Awo Babyshark. I bring this site as a bridge between old and new, initiated and non-initiated, and as a way to live, learn, and grow within this awesome tradition/religion. This site is also meant to promote thought, and answer academic, as well as spiritual questions that can help lead to a better understanding of the IFA/Orisa faith and its practicioners.
I acknowledge Olodumare who is the foundation of me being here in the first place. I acknowledge Orunmila/Ifa who is the mouth piece for Olodumare, and in whose mysteries I have been initiated. I acknowledge Esu as the constant Judge or arbiter. I acknowledge all my Ancestors, by blood and spiritually. I acknowledge my Family Orisa Sango "Kabiesy Baba mi!" I acknowledge all the Orisa (the deities who govern this world). I acknowledge my mother Yvonne Teuns and my Father Julius Pieters-Kwiers for bringing me into this world. I acknowledge Joan and Roland Hanson my "host family" for taking me into their home during my college days.
I also would like to acknowledge the following Babalawos:

Oloye Balogun Awo Oshogbo Asiwaju Awo Agbaye Ifagbenusola Olalekan Atanda
Ajugbona Baba Arugbo AwoGbade
Oloye Ifaniyi Oyeboade
Oduyemi,Odugberu,Odunola, Fatunde Aderinko and Olawiyi ebo ade 'Faniran
Oloye Fagbemi Ogundele (John Turpin)
Oloye Medahochi Kofi Omowale Zannu
Oloye Awodiran Okanlawon Agboola
Oloye Solagbade Popoola
Oloye Ifatope Akinwande
Oloye Abiodun Agboola
Oloye Fama Somadhi
Oloye Onilu awo Akoda Ese Kan Ola
Oloye Ifayemi Elebuibon
Awise Agbaye Wande Abimbola
The following Babalawos I am indebted for their help and they have been very instrumental for me learning IFA:
My Brother in IFA always Ifawole, Ifadogbon M. Billings, C. Lopez Ogbewale, Ifakolade Awoyade, Ifa Jokoo J. Barrosso, Baba Eji Ogbe, Baba Ji Latosha Odi Obara, Baba Ifa Biyii Sangode B. Evans, Awo R. McGhee Iretebemore, Awo Ifasakin, Awo Heru Sangodaare Fasina, Awo Gbade O. Johnson, Oloye Fafore Akinlana, Obakunle Akinlana, Awoyinfa Faloju, Awo Ifarema, Awo James Weeks, Oba Sekou Olayinka and many other Awos that I have come in contact with, but whom I did not mention here. May Orunmila continue to shine his Light on all of us and bless us with his Wisdom. Ase-O!
I also would like to acknowledge the following people:
Don Onelio Sotolongo (Kabiesy Baba! Usted is un biblioteca caminando sobre los Oricha!), Michael Spiro (Keep the Orisha music going!), Moises Carmona (Mi hermano Espiritual!), Samia Panni (Keep on singing Sis!), A. Torres "Tatin" (Que Ochun siempre te bendiga iya!), Sandy Blocker (Keep the IFA faith alive!), Ba' Kojo Ifaniregun (Spread the True word!), Emeluschka Pieterz (Nunca lubida bo padrino den IFA!), Karrl Obatunde Foster (May IFA give you everything you ask for!), Myron (May Oshun guide and help you to always research your roots) Robin Ochun KoFa De and Hector (May Ochun Bless you many times over!), Ifayomi Falade (Preach yeye preach!), Ifakemi (That you always see and worship the Light of IFA), Oloye Mrs. Dupe Osundere Fagbenro-Amusan (May IFA and Oshun carry you high!), Corin Jaremka and Chad Wilder (May your Dreams and Band come true!), and all the people who have come to the feet of IFA and follow His Wisdom and Guidance. May Olodumare, all the Irunmale and Orisas, your own Ori and all the Egun assist you and keep you on your journey of life.
I also would like to acknowledge the Society of "Wise Women" Iyami Osoronga; your power is undeniable and therefore I pay homage to you!
And ODU; your spirit is always close to me, may you assist me in fulfilling my highest Destiny. Ase-O!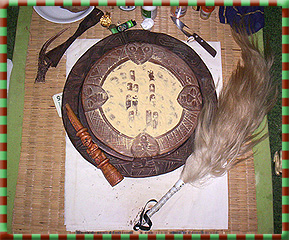 Connect to the power of Wisdom, connect to the power of IFA!
Consult IFA before the problems starts!